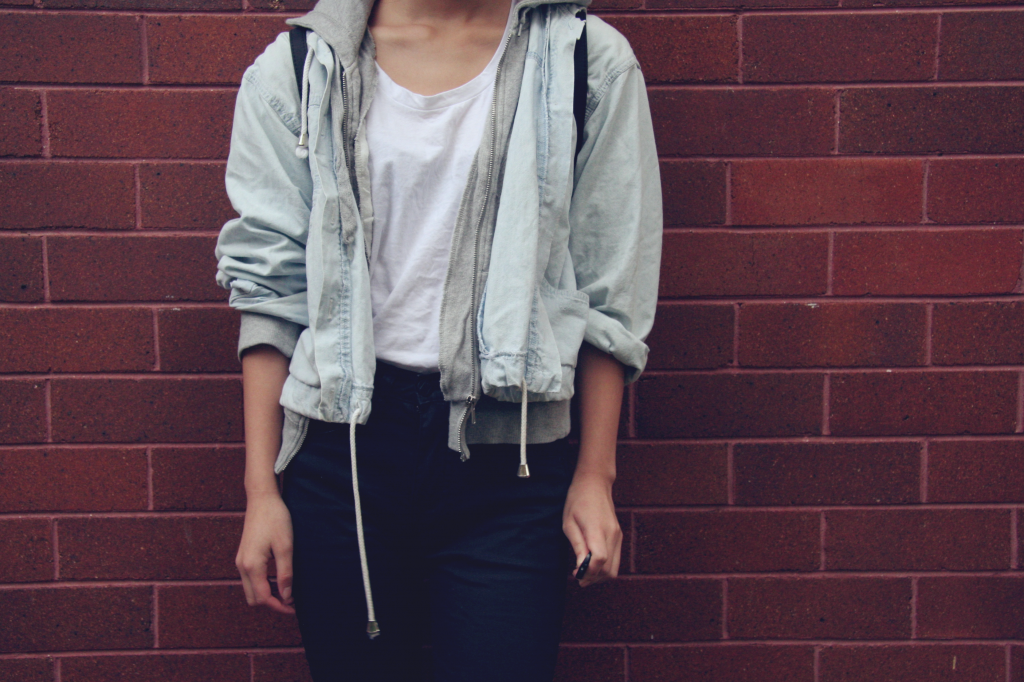 White Tee: Cotton On // Grey Hoodie: Love Boat (Japan) // Denim Hoodie: Mum's //
Jeans: Ziggy via Myer (avaliable on the Glue Store website) // Creepers: Dotti// Backpack: Grandma's
I have a weakness for hand-me-downs, and I always have. Maybe it's part of the only-child complex I have, but I really enjoy the comfort and the look of something that has been wore in and obviously loved a little (and I obviously love the fact that I don't have to pay a cent!)
My two favourite pieces would have to be mum's denim hoodie and a Prada backpack that I recently found in my grandma's wardrobe (I'm not 100% sure whether it's real or not). I pretty much live in denim hoodies during the summer, and I definitely think it's a piece that is versatile enough all year around. However, this particular one is quite thin, so on days where the weather is a little more forgiving I like to wear my grey hoodie underneath to give me a little insulation.
This backpack is the perfect size for weekend outings and little family dinners; because I can fit my essentials (phone, wallet, lip balm, etc.) as well as a book and a water bottle, but at the same time I'm not tempted to pack my whole house in there. I think is also my first small day back in black, so it'll definitely get a lot of use because it goes with everything!
Anyone else have a love for hand-me-downs that could rival mine?
Love,
Bloglovin | Pinterest
Disclaimer